Where's the power cord?
It's a common question we hear at Goedeker's after someone purchases a new dryer or range. It's a source of frustration for the consumer because it causes problems like longer wait time and more money spent.
Power cords are NOT included with ranges or dryers
When purchasing either a range or dryer, be aware that power cords are not included.
Why don't ranges or dryers come with power cords?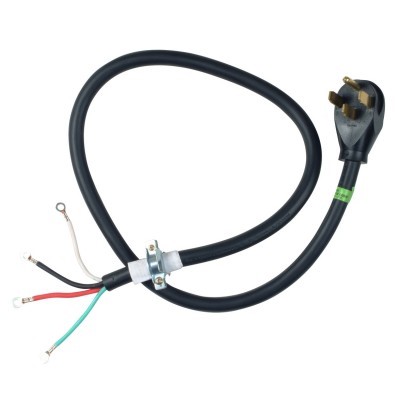 Believe it or not, the omission of a power cord is not some money-making scam created to take a little more cash from consumers. Power cords are sold separately from dryers and ranges because the electrical codes and outlets for these specific appliances vary to a high degree. There is no standard like there is for washers and refrigerators.
An electric dryer can use a 3-prong or 4-prong cord, while a gas dryer uses a 120 volt cord.

Dryer and range power cords use free-end types, also known as pigtails. They're attached to the appliance. Cable terminals connect to screw terminals to ensure a positive connection. The metal clamp attached is used as a strain relief where the cable enters the appliance and the cord protector.

Heavy-duty attachment plugs for dryers and ranges are bigger than the standard plug. Most plugs are "L" shaped, while the power cord feeds out the side.
Dryer and ranges power cord sizes range from 30 to 50 amps. The different amperage plugs are not interchangeable because their configuration is different.
Range and dryer cords look very similar. Make sure you order the proper cord.
The National Electrical Code requires new dryer and range receptacle installations to be 3-pole, 4-wire grounding receptacles. The neutral (grounded circuit conductor) is prohibited from being used to ground the frames of electrical dryers and ranges.
There is a solution!
It's simple! Educate yourself on what type of outlet you will need, as well as the amperage of the range or dryer you are purchasing! The retailer should have the exact cord you will need. It's easy to buy along with the appliance, so there's no delay in the installation process.
Salvaging your old power cord is an option too, but take caution! If the cord shows wear and tear or was made for an older appliance, it's probably wise to replace it with a newer version for your own safety.
Newer appliances can place a heavier electric load on the cord, so worn and outdated cords have a higher risk of fire.
Premier Appliance Store has your back!
Shop for range and dryer cord here at Premier Appliance Store.